The library is home to several special collections related to political campaigns, elections, and public policy.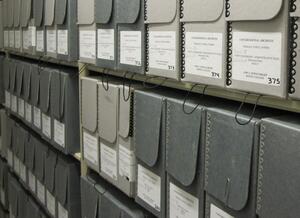 Berman/D'Agostino Redistricting and Political Campaign Materials, 1968-2000 
The collection consists of redistricting maps, campaign literature and related political materials documenting the careers of Michael Berman and Carl D'Agostino, leading California political consultants and strategists, and the work of their consulting firm, Berman and D'Agostino Campaigns. A finding aid describes the collection in detail.
California Election Ephemera
For many years the Library has collected campaign literature and clipped newspaper articles on election campaigns at the state and regional levels. The collection is especially rich in election ephemera on controversial statewide ballot propositions, such as Proposition 13, the 1978 property tax initiative. Material on each race is cataloged as a collection, and the catalog records are searchable by the names of the candidates and ballot propositions. In 2018 we began the process of digitizing these items and about 140 digitized folders are now available in Berkeley Library Digital Collections.
California Political Blogs Web Archive
California's dynamic political landscape reflects a variety of viewpoints, not all of which are represented in traditional media. From 2009-15, this project captured commentary from a select group of California political blogs. The web archive preserves access to this material.
Campaign Video Archive
The IGS Library's collection of California political campaign advertising spans the period from Pete Wilson's successful 1990 campaign for Governor through the 2003 recall of Gray Davis. These materials are an invaluable resource for studying the political rhetoric of California during a critical period when issues of immigration, crime, and the provision of public services took center stage in California and the nation. Many of these videos have been digitized and are available for viewing on archive.org.
Federal Election Commission Microfilm Collection
The collection contains, in a series of microfilm sequences, campaign finance disclosure reports filed with the Federal Election Commission (FEC) from 1972 through 2004, and FEC actions involving enforcement of federal campaign finance laws from 1975 onward. See the FEC collection finding aid for further details.
Index to Current Urban Documents
The Index to Current Urban Documents is a guide to reports and research generated by local government agencies, civic organizations, academic and research organizations, public libraries, and metropolitan and regional planning agencies in approximately 500 selected cities in the United States and Canada. The ICUD was published in microfilm from 1972-2000. The IGS library holds the microfiche collection from 1983-2000. See the finding aid for more details about researching and using the microfilm collection.
Overacker-Heard Campaign Finance Data Archive
The Overacker-Heard collection consists of boxes of index cards containing names of individual contributors to presidential campaigns and party committees from 1904 to 1954. The cards formed the data bases for Louise Overacker's Money in Elections (1932), her accounts of financing the 1936, 1940 and 1944 presidential elections and Alexander Heard's The Costs of Democracy (1960). A finding aid describes the collection in detail.
Presidio Trust Environmental Remediation Collection
This is a collection of environmental reports and studies on the conversion of the Presidio of San Francisco to a national park as part of the Golden Gate national Recreation Area. See the finding aid for more details about the collection.
Reapportionment Archives
The Library houses the files of the special masters appointed by the California Supreme Court to reapportion state legislative and congressional districts following the 1970 and 1990 censuses. Finding aids describe the two archives in detail: 
Inventory of the Collection of the California Special Masters on Reapportionment, 1973 
Inventory of the Collection of the California Special Masters on Reapportionment, 1991