Cal-in-Sacramento Fellowship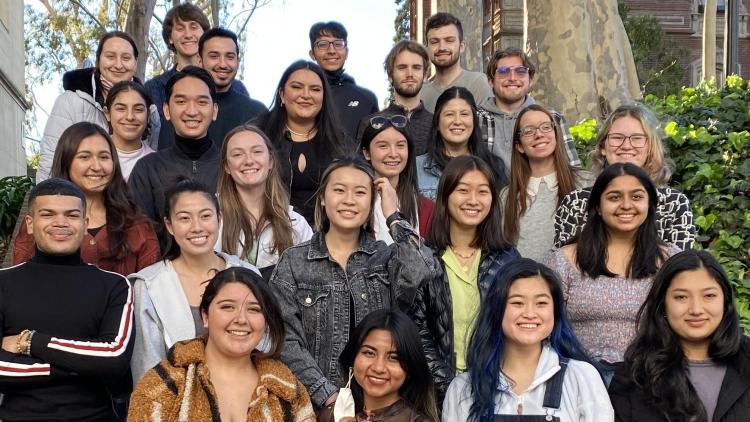 2022 Cal-in-Sacramento Fellows
Each year the Matsui Center's Cal-in-Sacramento program sends approximately 30 Cal students to California's capital for eight-week public service internships. Cal-in-Sacramento is the University of California's largest — and one of the nation's most prestigious — campus-based public service internship programs. For more than four decades, hundreds of Cal students have gone to Sacramento under our auspices to garner first-hand experience in the most dynamic state capital in the country. Many of these students have gone on to careers in politics, government, and public service.
Cal-in-Sacramento Fellows work for eight weeks in Sacramento internships in the offices of Senate and Assembly members, the Governor's Office, state agencies, or nonprofit groups. The program provides students with free housing, a free light-rail pass so students can travel to and from work, and a modest stipend for living expenses, thanks to a generous gift from PG&E.
Students prepare for their summer internships by taking the 3-unit course PS110B in the spring semester. During the spring, in addition to receiving instruction that will prepare students to succeed in their internships, students receive training in developing a research proposal on an issue of their choice that they will investigate during their summer internships. At the end of the summer, Fellows will write a blog post or op-ed, produce a 5-10 minute podcast or vlog, or create another multimedia presentation based on their research findings that can be shared with the broader public.
Check out photos from the 2022 Cal-in-Sacramento Fellows' spring visit to the state's capital here!
Diversity and Entrepreneurship Fellowships
The Matsui Center partners with the Wells Fargo Foundation to support student research that focuses on how small businesses, especially those that are women- and POC-owned, are faring across California and what can be done to strengthen them.
This year we will provide an additional $2500 stipend to Cal-in-Sac Fellows who choose to focus their research projects on a topic connected to diversity and entrepreneurship in California communities.
In addition to fulfilling the Cal-in-Sac requirements, Diversity and Entrepreneurship Fellows are required to:

1. Focus your summer research project on an aspect of diversity and entrepreneurship in California communities.
2. Agree to be paired with a mentor, who is an expert in the field of diversity and entrepreneurship, and meet with your mentor once during the spring of 2022 and three times over the summer of 2022.
3. Prepare a research deliverable that showcases findings from your diversity and entrepreneurship research, and present these findings at a fall 2022 conference sponsored by IGS and the Matsui Center.
4. Translate your findings into a blog post, op-ed, podcast, vlog, or other multi-media format that can be shared with the broader public.
Read more about the Diversity and Entrepreneurship Initiative here.
Apply now!
We are now accepting applications for the 2023 Cal-in-Sacramento Fellowship Program. Complete and submit an application here. Applications are due Sunday, October 16 at 11:59pm (PT).
Questions? Contact IGS and Matsui Center Program Manager Megan Collins: meganjcollins [at] berkeley.edu
Sign up here to receive more information on Cal-in-Sacramento and other Matsui Center and IGS fellowship and grant programs.
View a complete list of Cal-in-Sacramento participants throughout the years here.
Congratulations to the 2022 cohort of Cal-in-Sacramento Fellows!
| | | | |
| --- | --- | --- | --- |
| Alexis Aguilar | Shaily Bajracharya | Daniel Bui | Sidney Carrigan |
| Lesly Castro | Isabel Cholbi | Jose Gonzalez Ramirez | Samuel Greenberg |
| Nathalie Guillen | Bailey Henderson | Yvette Hernandez | Vivian Kuang |
| Cindy Nguyen | Jenifer Lopez | Amir Naranjo | Ashlyn Olah |
| Michelle Yiu | Ayline Ruelas | Jennifer Serrano | Tristan Shaughnessy |
| Jackson Smith | Sinchana Srinivas | Riley Thompson | Rebecca Tran |
| | Jocelyn Villalobos | Allyson Velez - Student Director | |
Support Cal-in-Sacramento!
Apply to be a Fellow!
Deadline to apply: Friday, October 22 by 9am
Questions?
Come to a Cal-in-Sac info meeting: September 13 from 6-7pm or September 23 from 5-6pm. Both info meetings will be held virtually. Please see below for more information.
September 13:
Click here for zoom link
Meeting ID: 925 3451 4602
Passcode: calnsac

September 23:
Click here for zoom link
Meeting ID: 973 4025 7380
Passcode: calnsac
Contact: Matsui Program Manager, Megan Collins: meganjcollins [at] berkeley.edu for additional details.