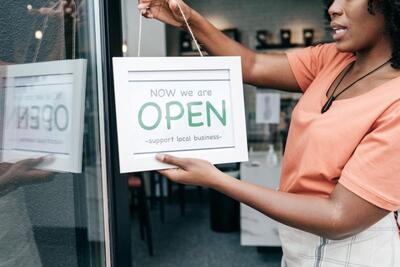 In Spring of 2021, the Institute of Governmental Studies (IGS) at the University of California, Berkeley, was awarded a grant of more than $333,000 from the Wells Fargo Foundation to launch a two-year Diversity and Entrepreneurship Fellowship Program. The new initiative expands Berkeley undergraduate research, advocacy and internship experiences that focus on how small businesses, especially those that are POC (People of Color)- and women-owned, are faring across California and what can be done to strengthen them. IGS's Diversity and Entrepreneurship initiative brings resources and attention to the political and economic challenges faced by diverse entrepreneurs and the need to ensure an equitable recovery in the post-COVID-19 commercial landscape.
The Diversity and Entrepreneurship Fellowship Program includes hands-on research and summer internship experiences for Cal undergraduates focused on diverse entrepreneurship and small businesses, along with academic instruction in diversity, entrepreneurship, and California policy. Students receive training and mentorship from Berkeley graduate students and other experts in the field, and an opportunity to present their findings at a research symposia in the fall. The goal of the program is to build a diverse cohort of future civic and political leaders who understand the challenges and opportunities facing women- and POC-owned small businesses and who are committed to promoting entrepreneurship in diverse communities through public policy, advocacy, and other forms of creative engagement.  
During the summers of 2021 and 2022, D&E Fellows conducted research on racial disparities in access to PPP loans, the impact of COVID on AAPI businesses, sustainability practices of small businesses, social equity programs for POC cannabis entrepreneurs, and much more. Each year, students presented their research at a fall research symposium.  Read more about their research projects here!
Throughout the spring and summer of 2023, D&E Fellows worked on a team-based research project directed at understanding barriers women of color (WOC) entrepreneurs face when accessing capital. During the spring semester, Fellows conducted qualitative interviews with WOC entrepreneurs, exploring the intersections between their lived experiences and their ability to navigate the challenges associated with access to capital and product innovation. Over the summer, D&E Fellows will analyze interview transcripts, identify themes, and share initial findings in the form of a research brief and public presentations that will be featured at a Fall 2023 research symposium.
CONGRATULATIONS to our 2023 cohort of Diversity and Entrepreneurship Fellows!
2023 Cohort of Diversity and Entrepreneurship Fellows 
Beck Tran 
Ethan Kim
Fatima Jara
Fiona Volger
Kristel Casio
Matthew Aini
Molly Jacoby
Sofia Greenwald
Tristan Keene 
Vivian Yu
2022 Cohort of Diversity and Entrepreneurship Fellows
| | | | |
| --- | --- | --- | --- |
| | | | |
| Alexis Aguilar | Allyson Velez | Ayline Ruelas | Cindy Nguyen |
| Jackson Smith | Jenifer Lopez Osorio | Jennifer Serrano | Jose Gonzalez Ramirez |
| Lesly Castro | Michelle Yiu | Rebecca Tran | Sam Greenberg |
| Shaily Bajracharya | Sidney Carrigan | Tristan Shaughnessy | Yvette Hernandez |
2021 Cohort of Diversity and Entrepreneurship Fellows
| | | | |
| --- | --- | --- | --- |
| | | | |
| Alexis Aguilar | Jose Gonzalez Ramirez | Cindy Nguyen | Jackson Smith |
| Shaily Bajracharya | Sam Greenberg | Ayline Ruelas | Beck Tran |
| Sidney Carrigan | Yvette Hernandez | Jennifer Serrano | Allyson Velez |
| Lesly Castro | Jenifer Lopez Osorio | Tristan Shaughnessy | Michelle You |