Cristina Mora and Erick Schickler, IGS Co-Directors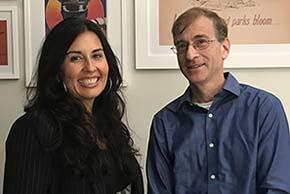 G. Cristina Mora is Associate Professor of Sociology and Chicano/Latino Studies (by courtesy) at the University of California, Berkeley. She completed her B.A. in Sociology at Cal in 2003 and earned her Ph.D. in Sociology from Princeton University. Her research focuses mainly on questions of census racial classification, immigration, and racial politics in the United States and Europe. Her first book, Making Hispanics (2014), provides the first historical account of the rise of the "Hispanic/Latino" panethnic category in the United States. This work, along with related articles, has received wide recognition, including the American Sociological Association's 2010 Best Dissertation Award and 2018 Early Career Award (SREM). She is currently working on two new book projects funded by the Russell Sage Foundation. The first, California Color Lines: Racial Politics in an Era of Economic Precarity (w. T. Paschel) examines the contradictions of racial politics in the nation's most diverse and seemingly professive state. The second, Race and the Politics of Trust in an Age of Government Cynicism (w. J. Dowling and M. Rodriguez-Muniz) provides the first mixed methods examination of race and political trust in the U.S. In July 2020 she was appointed Co-Director of IGS along with Eric Schickler.
Eric Schickler is Jeffrey & Ashley McDermott Professor of Political Science at the University of California, Berkeley. He is the author of three books which have won the Richard F. Fenno, Jr. Prize for the best book on legislative politics: Disjointed Pluralism: Institutional Innovation and the Development of the U.S. Congress (2001), Filibuster: Obstruction and Lawmaking in the United States Senate (2006, with Gregory Wawro), and Investigating the President: Congressional Checks on Presidential Power (2016, with Douglas Kriner; also winner of the Richard E. Neustadt Prize for the best book on executive politics). His book, Racial Realignment: The Transformation of American Liberalism, 1932-1965, was the winner of the Woodrow Wilson Prize for the best book on government, politics or international affairs published in 2016, and is co-winner of the J. David Greenstone Prize for the best book in history and politics from the previous two calendar years. He is also the co-author of Partisan Hearts and Minds, which was published in 2002. He has authored or co-authored articles in the American Political Science Review, American Journal of Political Science, Legislative Studies Quarterly, Comparative Political Studies, Polity, Public Opinion Quarterly, and Social Science History. His research and teaching interests are in the areas of American politics, the U.S. Congress, rational choice theory, American political development, and public opinion. In July 2020 he was appointed Co-Director of IGS along with Cristina Mora.
cmora [at] berkeley.edu, eschickler [at] berkeley.edu